Cookery
View
TOTAL TIME:5 hr 45 min
Prep:45 min
Inactive Prep:1 hr 30 min
Cook:3 hr 30 min
YIELD:8 servings
LEVEL:Intermediate
INGREDIENTS
4 pounds, 8 ounces/ 2 kg 

oxtail

*
*Cook's Note: Ask your butcher to chop it into 1 1/4-inch/3 cm pieces
4 tablespoons salt
1 unpeeled 

garlic

 bulb
4 large unpeeled onions
5 1/4 ounces/150 g unpeeled ginger
4 pounds, 8 ounces/ 2 kg 

beef

brisket
3/4 cup/ 185 ml fish sauce
2 3/4 ounces/80 g rock sugar
3 pounds, 8 ounces/ 1.6 kg fresh 

rice

noodle (you will need about 7 ounces/ 200 g per person)
14 ounces/400 g trimmed 

sirloin

, thinly sliced
4 spring onions (

scallions

), sliced freshly ground black pepper
2 bird's eye chiles, sliced
1 lime, cut into wedges
Spice pouch
8 

cloves

2 

cassia

 bark, about 4-inches /10 cm in length
1 tablespoon whole black

peppercorns

1 (16-inch/40 cm) square piece muslin cloth
DIRECTIONS
In a large pot, submerge the oxtail in cold water, add 3 tablespoons salt and soak for 1 hour, then drain.To make the spice pouch, dry roast each ingredient separately in afrying pan over medium heat until fragrant.Cool, then coarsely grind the spice using a mortar and pestle or small spice grinder. Add the ground spices to the muslin square and tie up tightly in a knot. Set aside.Heat a barbecue grill or chargill pan over medium-high heat and grillthe unpeeled garlic, onions and ginger evenly for 15 minutes in total until all sides are blackened.Now peel the blackened skins and discard them, and then roughlychop. By doing this, the garlic, onion and ginger becomes sweet and fragrant, releasing more flavour into the stock.Put the oxtail, brisket and 200 fluid ounces/ 6 litres cold water in a stockpot and bring to the boil. While the stock is boiling, constantlyskim any impurities off the surface for 15 minutes (this will ensure a clean, clear broth), then reduce the heat to a low simmer.Add the fish sauce, remaining 1 tablespoon salt, rock sugar, garlic,onions, ginger, and spice pouch.Cover and simmer for 3 hours, or until the stock has reduced to almost 1/2.
Strain the stock through a muslin cloth. Remove the brisket, set aside to cool, then thinly slice.Blanch each portion of noodles in boiling water for 20 seconds.Drain, then transfer to a serving bowl.Place 3 or 4 slices of brisket on top of the noodles, followed by 3 or 4 pieces of raw sirloin. Pour over the hot stock to cover the noodles and beef.Serve with 1 tablespoon spring onion, a pinch of black pepper, and a coriander sprig to each bowl.At the table, add chile, and a squeeze of lime 
INGREDIENTS
4 tablespoons 

vegetable oil

6 garlic chives, finely sliced
12 medium green ling 

prawns

, unpeeled
Vermicelli noodles, cooked to package directions*
2 tablespoons crushed roasted

peanuts

1 green mango, peeled, pitted, and sliced
1 green 

banana

, halved and thinly sliced lengthways
1 Lebanese 

cucumber

, halved and thinly sliced lengthways
6 

lettuce leaves

, torn in half
1 teaspoon fish sauce
Nuoc mam cham dipping 

fish sauce

*Can be found at specialty Asian markets.
Special equipment: 12 bamboo skewers, soaked in water for 20 minutes
DIRECTIONS
Heat a grill to medium heat.In a small saucepan, add the vegetable oil, sliced garlic chives and bring to the simmer. Stir, then take the pan off the heat and transfer the garlic chive oil to a bowl.Thread each prawn onto a skewer (tail through the top of the head) and char grill on medium heat for 2 minutes on each side, or until cooked.While the prawns are grilling, place the vermicelli noodle on a plate and reheat it in the microwave for 1 minute on high. Now coat thenoodles with the garlic chive oil and sprinkle with the crushed peanuts. Tear a piece of the noodles and wrap around the grilled prawn, remove the skewer. Place the wrapped prawn on the lettuce, then add the mango, banana, and cucumber and roll up.Repeat this process and dip the wraps into nuoc mam cham dipping fish sauce.
TOTAL TIME:35 minPrep:15 minInactive Prep:15 minCook:5 min YIELD:4 servingsLEVEL:Intermediate
INGREDIENTS
7-ounces school prawns or medium-size 

shrimp

, heads, legs and tails removed
7 ounces boneless pork belly, thinly sliced into 1/10-inch thick pieces
2 tablespoons 

fish sauce

1 tablespoon 

sugar

1 teaspoon freshly ground black pepper
2 tablespoons finely chopped 

garlic

4 tablespoons finely chopped lemongrass*
2 tablespoons 

vegetable oil

2 red Asian shallots, finely diced*
3 spring 

onions

, sliced into 1 1/2-inch pieces
3 sprigs fresh cilantro
Steamed jasmine rice, for serving
*Can be found at specialty Asian markets.
DIRECTIONSPlace the prawns and pork belly into two separate mixing bowls. In each bowl, add 1 tablespoon of fish sauce, 1/2 tablespoon sugar, 1/2 teaspoon freshly ground black pepper, 1 tablespoon garlic, and 1 tablespoon lemongrass.Toss to combine the ingredients in each bowl well and marinate for 15 minutes.In a hot fry pan, add the oil and fry the red shallots and the remaining 2 tablespoons of lemongrass until fragrant. Now add thepork belly and cook on high heat for 2 minutes, or until brown. Add the prawns and stir fry until the prawns change color, then add the spring onions and toss for another minute.Transfer the mixture to a plate and garnish with cilantro and serve with steamed jasmine rice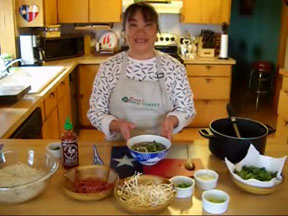 Cooking Vietnamese Food By Ramona Wersthttp://cookingvietnamesefood.com/
Free 30 page eBook